T. R. P. Amand-René MAURILLE
Significant Persons > Superior Generals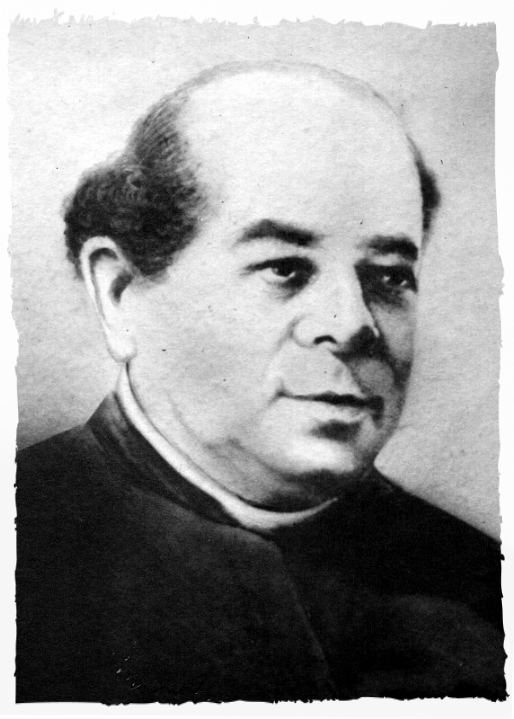 T. R. P. Amand-René MAURILLE
Supérieur Général de 1887 à 1903

Naissance à Chemillé en 1843
Ordination sacerdotale en 1866
Entrée dans la compagnie de Marie en 1871
Election comme supérieur général en 1887, à 44 ans
Supérieur général pendant 16 ans
Mort et sépulture à Meerssen en 1903, à 60 ans


Il est né à Chemillé en 1843. Ordonné prêtre dans le diocèse d'Angers en 1866, il entre dans la Compagnie de Marie en 1871. Après son élection comme supérieur général en 1887, il a la joie de vivre la Béatification du Fondateur le 22 janvier 1888 sous le Pontificat de Léon XIII. Au début de son mandat, la Congrégation compte 65 Pères, 137 Frères et 14 scolastiques. Les Pères sont répartis comme suit : 7 en Haïti, 5 au Canada, 7 en Hollande; les 46 autres sont en France. En cette même année paraît le premier numéro du bulletin de la Congrégation. En 1894 on ouvre le scolasticat en Algérie. L'expérience, provoquée par les lois du service militaire pour les étudiants, se termine en 1901. Depuis 1898 le Cardinal Vicenzo Vannutelli est le cardinal Protecteur. En 1899, le Père Maurille est reconfirmé dans sa charge de supérieur général. En cette même année on érige à Ottawa au Canada la Confraternité "Marie Reine des Cœurs" et le premier Père Procureur s'établit à Rome. En 1901 prennent naissance les fondations au Danemark et au Shiré. En 1902 on approuve la fondation d'une maison en Belgique puis d'une mission en Islande. On commence la construction du Collège International à Rome et, en 1903, on bénit la première pierre du Sanctuaire Marie Reine des Cœurs à Via Romagna. Deux prêtres italiens prennent contact avec la Congrégation par une lettre adressée comme suit : "Au Supérieur Général des Montfortains – France". Ils commencent leur noviciat en Hollande. Suite aux lois françaises de 1901, le Père Maurille est contraint à l'exil en Hollande. Il y meurt en 1903 et il est enterré à Meerssen.

Fr. Amand-René MAURILLE
Superior General (1887 – 1903)

Born in Chemillé in 1843
Ordained priest in 1866
Entered the Congregation in 1871
Elected Superior general in 1887 at the age of 44
Superior general for 16 years
Died in 1903 aged 60 and was buried in Meersen


He was born in Chemillé in 1843. Having been ordained priest for the diocese of Angers in 1866, he entered the Company of Mary in 1871. After his election as Superior General in 1887, he had the joy of experiencing the beatification of our Founder on 22 January 1888, in the pontificate of Leo XIII. At the beginning of his term of office, the congregation numbered 65 priests, 137 Brothers and 14 scholastics. The priests were distributed as follows: 7 in Haiti, 5 in Canada, 7 in the Netherlands, and the other 46 in France. In that same year there appeared the first issue of the bulletin of the Congregation. In 1894 a scholasticate was opened in Algeria. This experiment, occasioned by the laws concerning military service for students, ended in 1901. From 1898 Cardinal Vicenzo Vannutelli was the Cardinal Protector. In 1899, Father Maurille was re-elected as Superior General, and in that same year the Confraternity of Mary Queen of All Hearts was established in Ottawa in Canada, and the first Procurator took up residence in Rome. In 1901, the foundations in Denmark and Shiré were started. In 1902, approval was given for a house in Belgium and a mission in Iceland. The building of the International College in Rome was begun, and, in 1903, the foundation stone of the Shrine of Mary Queen of All Hearts in the Via Romagna was blessed. Two Italian priests made contact with the Congregation by means of a letter addressed as follows: "To the Superior General of the Montfortians - France". They began their novitiate in the Netherlands. As a consequence of the French laws of 1901, Fr. Maurille was forced into exile in Holland. He died there in 1903 and is buried in Meersen.

P. Amand-René MAURILLE
Superiore Generale dal 1887 al 1903

Nasce a Chemillé nel 1843
Viene ordinato sacerdote nel 1866
Entra nella Compagnia nel 1871
E' eletto Superiore Generale nel 1887 a 44 anni
Superiore Generale per 16 anni
Muore nel 1903 a 60 anni ed è sepolto a Meerssen


Nasce a Chemillé nel 1843. Ordinato prete nella diocesi di Angers nel 1866, entra nella Compagnia nel 1871. Dopo la sua elezione a Superiore Generale nel 1887 vive la gioia della Beatificazione del Fondatore il 22 gennaio 1888 sotto il Pontificato di Leone XIII. All'inizio del suo mandato la Congregazione conta 65 padri, 137 fratelli e 14 scolastici. I padri sono così suddivisi: 7 in Haiti, 5 in Canada, 7 in Olanda. Gli altri 46 in Francia. Lo stesso anno appare il 1° numero del bollettino della Congregazione. Nel 1894 si apre lo Scolasticato in Algeria. L'esperienza, sorta per le leggi sul servizio militare per gli studenti, termina nel 1901. Dal 1898 il card. Vicenzo Vannutelli è il cardinale Protettore. Nel 1899 è riconfermato Superiore Generale. Nello stesso anno viene eretta ad Ottawa in Canada la Confraternita "Maria Regina dei Cuori" e il primo Padre Procuratore si stabilisce a Roma. Nel 1901 sono da registrare le fondazioni in Danimarca e nello Shiré. Nel 1902 è approvata la fondazione di una casa in Belgio e nel 1903 si approda in Islanda. Si procede alla costruzione del Collegio Internazionale a Roma e nel 1903 la benedizione della prima pietra del Santuario Maria Regina dei Cuori a via Romagna. Due sacerdoti italiani prendono contatto con la Congregazione, inviando una lettera con questo indirizzo: "Al Superiore Generale dei Monfortani – Francia". Nel 1903 iniziano il loro noviziato in Olanda. In seguito alle leggi francesi del 1901 il Padre Maurille va in esilio in Olanda. Qui muore 1903 e viene sepolto a Meersen.