T. R. P. Gabriel DESHAYES
Significant Persons > Superior Generals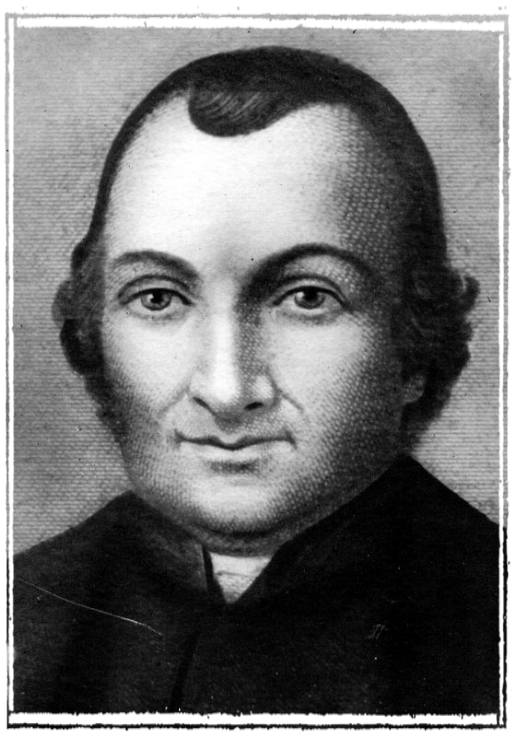 T. R. P. Gabriel DESHAYES
Supérieur Général de 1821 à 1841

Naissance à Beignon en 1767
Ordination sacerdotale en 1792
Entrée dans la compagnie de Marie en 1820
Election comme supérieur général en 1821, à 54 ans
Supérieur général pendant 20 ans
Mort et sépulture à Saint Laurent en 1841, à 74 ans


Il est né à Beignon, non loin de Montfort sur Meu, en 1767. Ordonné prêtre dans la clandestinité durant la Révolution, il entre en relation avec la Compagnie de Marie à partir de 1812. Il est curé à Auray où il y a des Filles de la Sagesse. Désirant faire partie du groupe des Montfortains, il se joint finalement à eux en décembre 1820 à l'invitation du P. Duchesne. Suite à la mort subite de ce dernier, durant le mois de janvier suivant il est élu supérieur général. Les vingt ans de son généralat seront pleins de vie : renforcement du groupe des missionnaires tant prêtres que frères; obtention du "Bref laudatif" pour les deux congrégations (1825); préparation de nouvelles règles et retour à la profession des vœux (1834); début de la cause de Béatification en vue de la canonisation du Père de Montfort (1829); développement des Filles de la Sagesse; développement du travail des missions et des retraites pour les clercs qui s'étendront ensuite aux hommes et aux femmes. En 1832, le P. Julien Hilléreau est nommé évêque d'abord de Smyrne, puis de Constantinople. Durant son généralat la Sagesse passe de 778 à 1668 religieuses. A sa mort en fin 1841, la Compagnie de Marie compte 26 Pères et 42 Frères. Sa tombe est encore bien visible, au bout du cimetière de la Sagesse (à la demande du Père Deshayes, elle est intégrée au monument de la 14ème station du chemin de Croix : Jésus est déposé au tombeau).

Fr. Gabriel DESHAYES
Superior General (1821 – 1841)

Born in Beignon in 1767
Ordained Priest in 1792
Entered the Congregation in 1820
Elected Superior General in 1821 at the age of 54
Superior general for 20 years
Died in 1841 aged 74 and was buried in Saint-Laurent


He was born in Beignon, not far from Montfort, in 1767. He was ordained a priest in secret during the French Revolution, and became a friend of the Company of Mary in 1812. He was the parish-priest of Auray where the Daughters of Wisdom were to be found. Wanting to be part of the group, he finally joined the Congregation in 1820 at the invitation of Fr. Duchesne. After the latter's sudden death, he was elected in the following January as Superior General. The 20 years of his Generalate were to be very fruitful years: reinforcing the numbers of both priests and Brothers in the Missionary group; obtaining Letters Patent for both Congregations (1825); preparation of a new Rule and a return to the profession of Vows (1834); initial steps in the Cause of Beatification of Montfort (1829); the development of the Daughters of Wisdom; development of the work of Missions and Clergy Retreats, which could also be extended to men and women. In 1832, Fr. Julien Hillerau was appointed Bishop first of Smyrna then of Constantinople. During Fr. Deshayes' Generalate, the Daughters of Wisdom grew from 778 to 1668 religious. The Company of Mary, when he died at the end of 1841, numbered 26 priests and 42 Brothers. His tomb is still to be seen in the Cemetery of the Daughters of Wisdom.

P. Gabriel DESHAYES
Superiore Generale dal 1821 al 1841

Nasce a Beignon nel 1767
Viene ordinato sacerdote nel 1792
Entra nella Compagnia nel 1820
E' eletto Superiore Generale nel 1821 a 54 anni
Superiore Generale per 20 anni
Muore nel 1841 a 74 anni ed è sepolto a St. Laurent-sur-Sèvre


Nasce a Beignon, non lontano da Montfort, nel 1767. Ordinato sacerdote in clandestinità durante la Rivoluzione, entra in contatto con la Compagnia dal 1812. È parroco ad Auray dove ci sono le Figlie della Sapienza. Desideroso di far parte del gruppo, finalmente si unisce ad esso nel dicembre 1720 su invito del P. Duschesne. Dopo l'improvvisa morte di quest'ultimo, nel gennaio 1721 viene eletto Superiore Generale. I vent'anni del suo generalato sono molto vivaci: viene rafforzato il gruppo dei missionari sia sacerdoti che fratelli; si ottiene il "Breve di Lode" per le due Congregazioni (1825); si stilano nuove regole e si ritorna alla professione religiosa dei voti (1834); viene avviata la causa per la Beatificazione e la Canonizzazione del Montfort (1829). Conosce floridezza il lavoro delle missioni e dei ritiri per il clero che poi si estenderanno agli uomini e alle donne. Nel 1832 il P. Julien Hillérau è eletto vescovo prima di Smirne e poi di Costantinopoli. Durante il suo generalato le Figlie della Sapienza conoscono un notevole incremento: passano da 778 a 1668 religiose. La Compagnia di Maria, alla sua morte, alla fine del 1841, conta 26 padri e 42 fratelli. La sua tomba è ancora ben visibile nel cimitero della Sapienza a St. Laurent-sur-Sèvre.