T. R. P. Théophile RONSIN
Significant Persons > Superior Generals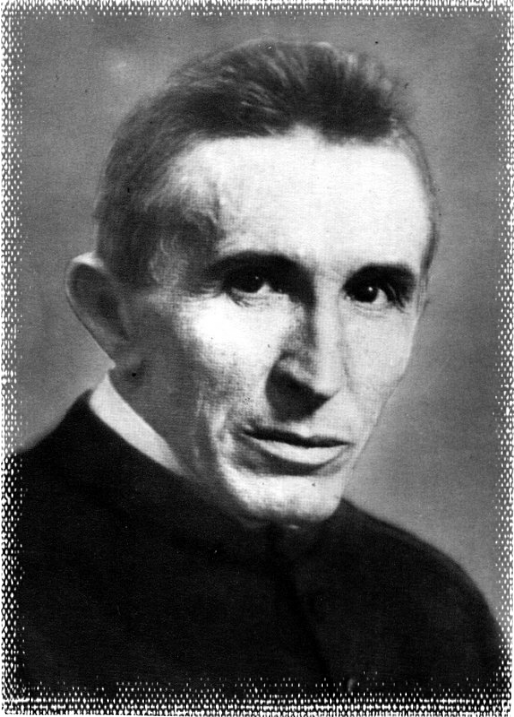 T. R. P. Théophile RONSIN
Supérieur Général de 1936 à 1947

Naissance Crangouet (Vannes) en 1871
Entrée dans la compagnie de Marie en 1892
Ordination sacerdotale en 1896
Election comme supérieur général en 1936 à 65 ans, jusqu'en 1947
Supérieur général pendant 11 ans
Mort et sépulture à Saint Laurent en 1952, à 80 ans


Né en 1871 dans le diocèse de Vannes, il aura été à la tête du destin de la congrégation durant la seconde guerre mondiale (1939-1945), jusqu'en 1947, année de canonisation du Père de Montfort dont il a réussi à porter à son terme le laborieux processus. Il y est présent en fauteuil roulant, auprès du nouveau supérieur général. Il meurt cinq ans plus tard, le 8 mars 1952, âgé de 80 ans. Malgré les années terribles du conflit mondial, la congrégation continue à se développer et dépasse les mille membres. Heureusement il n'y a pas beaucoup de victimes de la guerre dans la congrégation; cependant un bon nombre de confrères connaissent la captivité.
Malgré la guerre, le centenaire de la redécouverte du Traité de la vraie dévotion, en 1942, est solennisé avec l'édition photographique du manuscrit. A cette occasion, dans une lettre circulaire, le P. Ronsin manifeste combien ce petit livre est un secret de sanctification et d'apostolat. C'est durant son généralat qu'est entreprise la fondation en Indonésie (1938) et que l'Angleterre est reconnue comme Vice Province (1942).



Fr. Théophile RONSIN
Superior General (1936 - 1947)

Born in Crangouet (Vannes) in 1871
Entered the Congregation in 1892
Ordained priest in 1896
Elected Superior general in 1936 at the age of 65, until 1947
Superior general for 11 years
Died and was buried in Saint-Laurent in 1952 aged 80


Born in 1871 in the diocese of Vannes, he was destined to be in charge of the congregation during the Second World War (1939-1945), until 1947, the year of the canonisation of Fr. de Montfort; it was he who succeeded in bringing this laborious process to a successful conclusion. He was there at the canonisation, in a wheel-chair, next to his successor as Superior General. He died 5 years later, on 8 March 1952, aged 80. Despite the terrible years of the global conflict, the congregation continued to grow and passed the thousand mark. Fortunately there were not many victims of the war in the congregation, though quite a few experienced captivity.
Despite the War, the centenary of the rediscovery of the True Devotion to the Blessed Virgin in 1942 was celebrated by the publication of a photographic copy of the manuscript. On that occasion, in a circular letter, Fr. Ronsin wrote about how this little book is a secret of sanctification and apostolate. It was during his term of office that a foundation was made in Indonesia (1938) and that England was recognised as a Vice-Province (1942).



P. Théophile RONSIN
Superiore Generale dal 1936 al 1947

Nasce a Crangouet (Vannes) nel 1871
Entra nella Compagnia nel 1892
Viene ordinato sacerdote nel 1896
E' eletto Superiore Generale nel 1936 a 65 anni
Superiore Generale per 11 anni
Muore 1952 a 80 anni ed è sepolto a St. Laurent-sur-Sèvre


Nato nel 1871 in diocesi di Vannes, entra nella Compagnia di Maria nel 1892 e viene ordinato sacerdote nel 1896. E' nominato Superiore Generale nel 1936 a 65 anni. Tocca a lui guidare i destini della Congregazione durante la seconda guerra mondiale (1939-1945), fino al 1947, anno della canonizzazione del Montfort di cui riesce a portare a termine il laborioso processo. Assiste in carrozzella alla solenne liturgia in San Pietro, accanto al nuovo Superiore Generale. Nonostante gli anni terribili del conflitto mondiale, la Congregazione continua lo sviluppo e supera la soglia dei mille religiosi. La Provvidenza protegge la Compagnia di Maria durante la guerra. Sono infatti poche le vittime nella Congregazione: 1 padre, 1 fratello e 2 scolastici. Un buon numero di confratelli conosce la prigionia. Malgrado i disagi del periodo bellico si celebra il centenario del ritrovamento del Trattato della Vera Devozione, nel 1942, e viene solennizzato con l'edizione fotocopiata del manoscritto. Nell'occasione di una lettera circolare il P. Ronsin indica questo libretto quale segreto di santificazione e di apostolato. Durante il suo Generalato si avvia la fondazione in Indonesia (1938) e il riconoscimento della Vice-Provincia d'Inghilterra (1942). Muore nel 1952 a 80 anni ed è sepolto a St. Laurent-sur-Sèvre.