T. R. P. François DENIS
Significant Persons > Superior Generals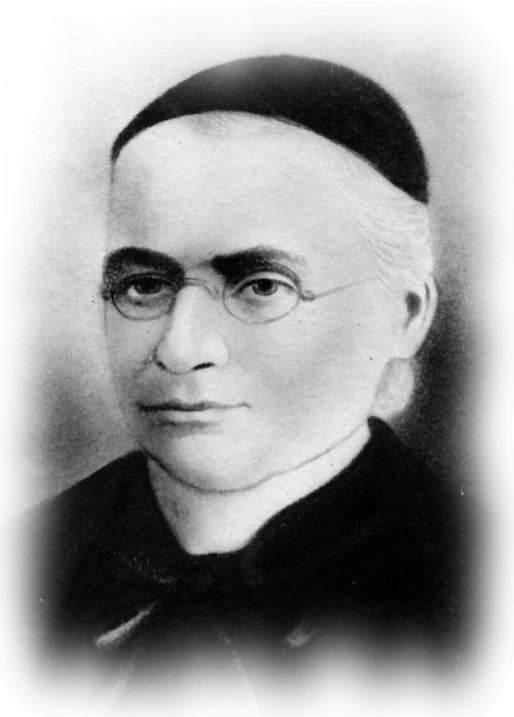 T. R. P. François DENIS
Supérieur Général de 1856 à 1877

Naissance à Andrezé en 1807
Ordination sacerdotale en 1833
Entrée dans la compagnie de Marie en 1836
Election comme supérieur général en 1856, à 49 ans
Supérieur général pendant 21 ans
Mort et sépulture à Saint Laurent en 1877, à 70 ans


Né en 1807, il rejoint la Compagnie de Marie peu après l'ordination sacerdotale, à 26 ans. Il en a 48 quand il est élu général en 1856. Bien qu'il ait hérité d'une situation de souffrance et de crise, les 21 ans de son généralat sont des années de développement remarquable et de choix clairvoyants. On ouvre une communauté à Pontchâteau (1865). La chapelle de la Sagesse est construite et bénie (1869). Le Père Grillard qui avait organisé la première édition du Traité, accompagne l'évêque de Luçon comme théologien expert au Concile Vatican I (1869).
Mais il faut surtout mentionner l'ouverture vers les missions à l'étranger : Haïti (1871). A Pontchâteau, ouverture d'un séminaire pour la mission d'Haïti (1872) auquel s'adjoint bientôt une "école apostolique" toujours pour Haïti, mais également pour la Compagnie de Marie (1874). En 1875 la Compagnie compte 54 prêtres et 113 Frères. De santé précaire, le P. Denis meurt en février 1877, à 70 ans.



Fr. François DENIS
Superior General (1856 – 1877)

Born in 1807 in Andrezé
Ordained Priest in 1833
Entered the Congregation in 1836
Elected Superior General in 1856 at the age of 49
Superior general for 21 years
Died in 1877 aged 70 and was buried in Saint-Laurent


He was born in 1807 and entered the Congregation shortly after his Priestly Ordination at the age of 26. He was only 48 when he was elected Superior General in 1856. Although he inherited a situation of suffering and crisis, the 21 years of his Generalate were to be years of notable development and far-sighted choices. A community was opened in Pontchâteau (1865). He saw to the building and the consecration of the Chapel of the Daughters of Wisdom. Fr. Grillard, who had been responsible for the first edition of the Treatise, accompanied the Bishop of Luçon as a theological expert at the Vatican Council I (1869).
But above all there was the opening to the foreign missions: Haiti (1871). At Pontchâteau there was opened a seminary for the missions in Haiti (1872), to which was attached an "apostolic school" for Haiti, but also for the Company of Mary (1874). In 1875, the Congregation numbered 54 priests and 113 Brothers. Of precarious health, Fr. Denis died in February 1877 at the age of 70.

P. François DENIS
Superiore Generale dal 1856 al 1877

Nasce ad Andrezé nel 1807
Viene ordinato sacerdote nel 1833
Entra nella Compagnia nel 1836
E' eletto Superiore Generale nel 1856 a 49 anni
Superiore Generale per 21 anni
Muore nel 1877 a 70 anni ed è sepolto a St. Laurent-sur-Sèvre


Nato nel 1807 ad Andrezé, si aggrega alla Compagnia poco dopo l'ordinazione sacerdotale a 26 anni. Ne ha 48 quando viene eletto Superiore Generale nel 1856. Benché erediti una situazione di sofferenza e di crisi, i 21 anni del suo generalato sono anni di notevole sviluppo e di scelte lungimiranti. Si apre una comunità a Pontchâteau (1865). Viene costruita e benedetta la cappella della Sapienza (1869). Il P. Grillard, che ha curato la prima edizione del Trattato, accompagna il vescovo di Luçon come teologo esperto al Concilio Vaticano I (1869).
Ma soprattutto è da registrare l'inizio delle missioni all'estero: Haiti (1871). A Pontchâteau si apre un seminario per la missione di Haiti (1872) al quale si affianca presto una "Scuola Apostolica" sempre per Haiti ma anche per la Compagnia di Maria (1874). Nel 1875 la Compagnia conta 54 sacerdoti e 113 fratelli. Di salute precaria il P. Denis muore nel febbraio 1877 all'età di 70 anni. E' sepolto a St. Laurent-sur-Sèvre.