T. R. P. Henri HURÉ
Significant Persons > Superior Generals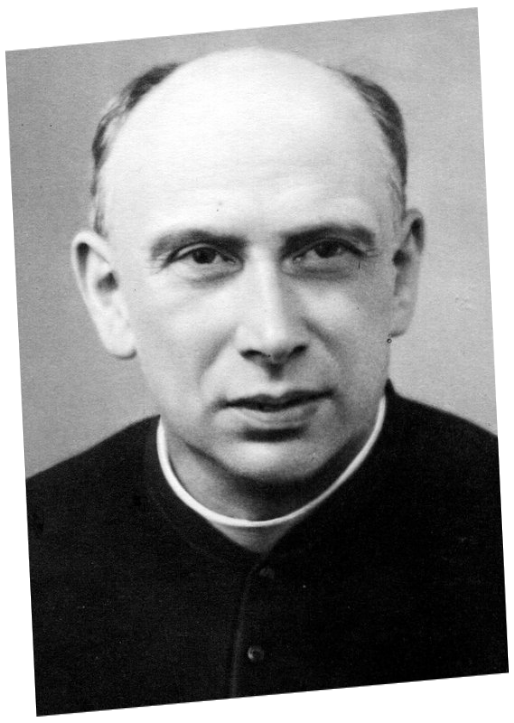 T. R. P. Henri HURÉ
Supérieur Général de 1931 à 1935

Naissance à Paris en 1880
Entrée dans la compagnie de Marie, en 1909
Ordination sacerdotale en 1916
Election comme supérieur général en 1931, à 51 ans, jusqu'en 1935
Supérieur général pendant 4 ans
Mort et sépulture à Saint Laurent en 1935, à 55 ans


Né en 1880, il entre dans la Congrégation après avoir fait des études d'ingénieur. Il n'est pas longtemps supérieur général : élu en 1931, il est emporté par une leucémie en 1935. Cependant durant cette brève période de temps, il voit grandir la congrégation de façon continue. En 1932 elle comptait 866 membres (418 Pères, 239 Frères et 209 scolastiques). Il continue l'organisation interne de la congrégation avec l'érection de provinces et de vicariats et l'ouverture missionnaire avec une fondation à Madagascar et une autre au Zaïre. C'est à lui que nous devons l'édition type du Secret de Marie et surtout de L'amour de la Sagesse éternelle, enrichie de notes et d'une introduction historique inégalée jusqu'à aujourd'hui. Il a également collaboré avec le P. Fradet dans l'édition monumentale des Cantiques. Conscient que sa mort approchait, il offre sa vie pour la sanctification de la famille montfortaine et pour la canonisation du Père de Montfort.

Fr. Henri HURÉ
Superior General (1931 – 1935)

Born in Paris in 1880
Entered the Congregation in 1909
Ordained priest in 1916
Elected Superior general in 1931 at the age of 51, until 1935
Superior general for 4 years
Died and was buried in Saint-Laurent in 1935 aged 55


Born in 1880, he entered the Congregation after studying to be an engineer. He was not Superior General for long: after his election in 1931, he died of leukaemia in 1935. Yet during this brief period of time, he saw the congregation continue to grow. In 1932 it numbered 866 members (418 priests, 239 Brothers and 209 scholastics). He continued the internal organisation of the congregation by erecting provinces and vicariates, and opened new missionary foundations in Madagascar and the Congo. It is to him that we owe the 'typical' edition of The Secret of Mary and especially The Love of Eternal Wisdom, enriched with notes and an historical introduction unequalled to this day. He also collaborated with Fr. Fradet on the monumental edition of St. Louis Marie's Cantiques. Aware that his death was approaching, he offered his life for the sanctification of the Montfortian family and the canonisation of Fr. de Montfort.

P. Henri HURÉ
Superiore Generale dal 1931 al 1935

Nasce a Parigi nel 1880
Entra nella Compagnia nel 1909
Viene ordinato sacerdote nel 1916
E' eletto Superiore Generale nel 1931 a 51 anni
Superiore Generale per 4 anni
Muore nel 1935 a 55 anni ed è sepolto a St. Laurent-sur-Sèvre


Nato a Parigi nel 1880, entra nella Compagnia di Maria nel 1909 dopo gli studi d'ingegneria. Viene ordinato sacerdote nel 1916. Il suo mandato di Superiore Generale è breve: solo quattro anni. Eletto nel 1931, viene stroncato da una leucemia fulminante nel 1935. Ma in questo rapido periodo vede crescere la Congregazione in modo continuo. Nel 1932 raggiunge 866 religiosi: 418 Padri, 239 Fratelli e 209 Scolastici. Continua l'organizzazione interna della Congregazione con l'erezione di Province e Vicariati e l'apertura missionaria con una fondazione in Madagascar e nel Congo Belga. Si deve a P. Huré l'edizione tipica de Il Segreto di Maria (1929) e soprattutto, nello stesso anno, de L'amore dell'Eterna Sapienza, arricchita di note e di un'introduzione storica ineguagliabile ancora oggi. Collabora anche con il P. Fradet alla monumentale edizione dei Cantici. Cosciente dell'approssimarsi della morte, offre la sua vita per la santificazione della Famiglia Monfortana e la Canonizzazione del Montfort. Muore nel 1935 a 55 anni ed è sepolto a St. Laurent-sur-Sèvre.