T. R. P. Cornelis HEILIGERS
Significant Persons > Superior Generals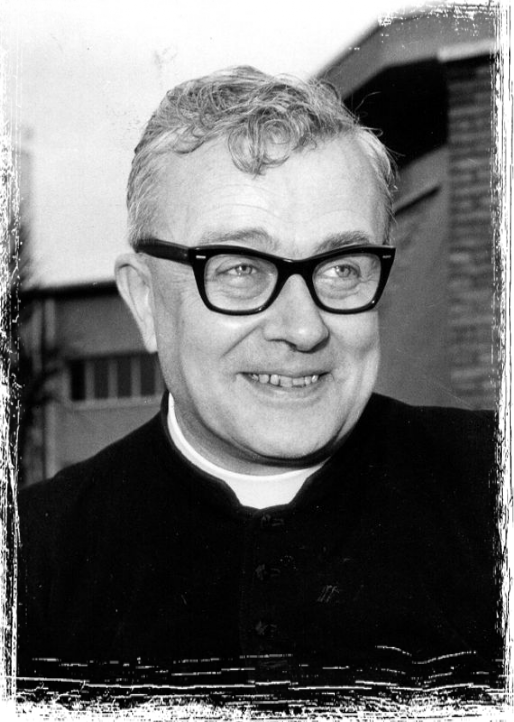 T. R. P. Cornelis HEILIGERS
Supérieur Général de 1958 à 1969

Naissance à Harlem (Hollande) en 1909
Entrée dans la compagnie de Marie en 1929
Ordination sacerdotale en 1935
Election comme supérieur général en 1958, à 49 ans, jusqu'en 1969
Supérieur général pendant 11 ans
Mort et sépulture à Rome en 1975, à 65 ans


Il s'agit du premier supérieur général non français dans l'histoire de la congrégation. Lorsque le Pape Jean XXIII exhorte les congrégations à se tourner vers l'Amérique Latine, la Compagnie, déjà présente en Colombie, est parmi les premières à répondre à l'appel : la Hollande s'ouvre au Brésil, la France à l'Argentine, l'Italie au Pérou, les USA au Nicaragua. On crée la commission qui va préparer l'édition typique des "Œuvres Complètes" de St Louis Marie de Montfort. Elles voient le jour en 1966, au 250ème anniversaire de la mort du Fondateur. On ouvre une communauté à Ephèse (Turquie). Le P. Heiligers vit l'expérience formidable du Concile Vatican II en tant que père conciliaire en même temps que les évêques montfortains et le P. Gambari. C'est durant son généralat que la congrégation atteint, en 1966, le point le plus élevé de son développement. Il inaugure de nouveaux rapports avec les Frères de Saint Gabriel grâce à de nouvelles études historiques qu'il met en place. Il érige en Provinces la Grande Bretagne/Irlande, l'Italie, les Etats Unis, la Colombie et en Vice-Provinces Haïti et la Belgique. On vit des moments de graves difficultés (1964) avec des morts au Congo Belge et au Mozambique. On prépare le chapitre spécial de 1969 voulu par les décrets de mise en application de Vatican II : à cette occasion le P. Heiligers donne sa démission bien que son mandat ne soit pas encore arrivé à échéance. Il meurt à Rome en 1975 durant le chapitre de congrégation auquel il participait en tant que ex-général. Il est inhumé dans le cimetière de Campo Verano à Rome.

Fr. Cornelis HEILIGERS
Superior General (1958 – 1969)

Born in Harlem (Netherlands) in 1909
Entered the Congregation in 1929
Ordained priest in 1935
Elected Superior general in 1958 at the age of 49, until 1969
Superior general for 11 years
Died and was buried in Rome in 1975 aged 65


He was the first non-French Superior General in the history of the congregation. When Pope John XXIII encouraged congregations to turn towards Latin America, the Company of Mary, already present in Colombia, was among the first to respond to his appeal: Holland opened a mission in Brazil, France in Argentina, Italy in Peru, and the United States in Nicaragua. Fr. Heilgers created the commission which was to oversee the 'typical' edition of the Oeuvres Complètes of St Louis Marie de Montfort. This was published in 1966, on the 250th anniversary of the death of the Founder. A community was opened in Ephesus (Turkey). The Heiligers lived the formidable experience of the Second Vatican Council as a Council Father, along with the Montfortian bishops and Fr. Gambari. It was during his term of office that the congregation reached the highest point of its growth in 1966. He opened up new relationships with the Brothers of St Gabriel, thanks to new historical studies that he set in motion. He raised to the status of Provinces Great Britain and Ireland, Italy, the United States and Colombia; and to that of Vice-Provinces Haiti and Belgium. He saw moments of great difficulty (1964) with deaths in the Belgian Congo and Mozambique. He prepared the special General Chapter of 1969 envisaged by the decrees of Vatican II; on this occasion Fr. Heilgers tendered his resignation as Superior General even though his term of office had not come to an end. He died in Rome in 1975 during the General Chapter at which he was participating as an ex-General. He is buried in the Campo Verano cemetery in Rome.

P. Cornelis HEILIGERS
Superiore Generale dal 1958 al 1969

Nasce a Harlem (Olanda) nel 1909
Entra nella Compagnia nel 1929
Viene ordinato sacerdote nel 1935
E' eletto Superiore Generale nel 1958 a 49 anni
Superiore Generale per 11 anni
Muore nel 1975 a 65 anni ed è sepolto a Roma


Nasce a Harlem (Olanda) nel 1909. Entra nella Compagnia nel 1929. E' ordinato sacerdote nel 1935. Viene eletto Superiore Generale nel 1958 a 49 anni. È il primo Superiore Generale non francese nella storia della Congregazione. Quando Papa Giovanni XXIII esorta le Congregazioni religiose a guardare le urgenze missionarie dell'America latina, la Compagnia, già presente in Colombia, è tra le prime a rispondere alla chiamata: l'Olanda si apre al Brasile, la Francia all'Argentina, l'Italia al Perù, gli Usa al Nicaragua. Crea la commissione incaricata di preparare l'edizione tipica delle "Oeuvres complètes" di S. L. M. de Montfort, che vedono la luce nel 1966, 250° anniversario della morte del Fondatore. C'è l'apertura di Efeso (Turchia), presso la presunta casa di Maria. Vive l'esperienza formidabile del Concilio Vaticano II come Padre Conciliare assieme ai Vescovi Monfortani e a P. E. Gambari. Sotto il suo Generalato la Congregazione ha, nel 1966, il punto più alto di sviluppo. Inaugura nuovi rapporti con i Fratelli di San Gabriele avviando nuovi studi storici. Erige a Provincie la Gran Bretagna/Irlanda, l'Italia, gli Stati Uniti e la Colombia e in vice provincie Haiti e Belgio. Si vivono momenti di gravi difficoltà (1964) con morti nel Congo Belga e in Mozambico. Prepara il Capitolo speciale del 1969, voluto dai decreti attuativi del Vaticano II e in quella occasione dà le dimissioni, in anticipo di un anno rispetto allo spirare del suo mandato. Muore a Roma nel 1975 durante il Capitolo della Congregazione a cui partecipa come ex Superiore Generale. È sepolto nel Campo Verano a Roma.