T. R. P. René MULOT
Significant Persons > Superior Generals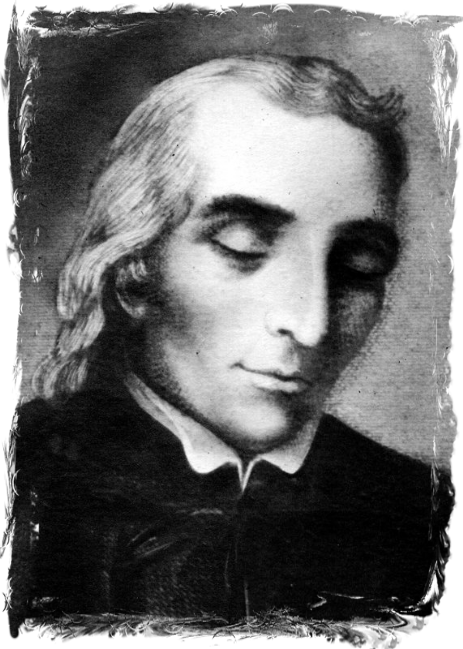 T. R. P. René MULOT
Supérieur Général de 1716 à 1749

Naissance à Fontenay-le-Comte en 1683
Ordination sacerdotale en 1707
Entrée dans la Compagnie de Marie en 1715
Successeur du Père de Montfort à partir de 1716 à 33 ans
Supérieur Général pendant 33 ans
Mort et sépulture en 1749, à 66 ans, à Questembert


Il naît à Fontenay-le-Comte en 1683. Ordonné prêtre en 1707, il connaît le Père de Montfort et devient son collaborateur pour les missions en 1715. Il est présent à la mort du Saint et devient son exécuteur testamentaire et son successeur. Il a 33 ans. En 1718, avec le Père Vatel, il reprend l'activité des missions. Après l'acquisition du Chêne Vert à Saint Laurent, il commence à y vivre en 1721. L'année suivante, il est élu officiellement supérieur et les confrères font leur profession entre ses mains. Bien que responsable également des Filles de la Sagesse, il continue son activité missionnaire. Il meurt en 1749 durant une de ces missions à Questembert à cause d'une infection par le tétanos. Sa tombe dans le cimetière local devient un but de pèlerinages.
A sa mort les Pères sont au nombre de 12 et les Frères 6. Les Filles de la Sagesse sont 100 en 26 résidences et 19 sont déjà mortes.



Fr. René MULOT
Superior General (1716 – 1749)

Born in Fontenay-Le-Compte in 1683
Ordained a Priest in 1707
Entered the Congregation in 1715
Successor to Montfort from 1716 at 33 years of age
Superior General for 33 years
Died in 1749 aged 66 and was buried in Questembert


He was born in Fontenay-le-Compte in 1683. Ordained priest in 1707, he knew Montfort and became his collaborator in giving Missions in 1715. He was present at the death of the Saint, becoming the executor of his Will and his successor. He was then 33 years old. In 1718, with Fr. Vatel, he recommenced the work of giving Missions. He acquired the 'Chène Vert' in Saint-Laurent, and began living there in 1721. The following year he was officially elected superior, and the confreres made their profession into his hands. Although also responsible for the Daughters of Wisdom, he continued his mission work. He died in 1749 during a mission in Questembert from a tetanus infection. His tomb in the local cemetery, within a century, became a place of pilgrimage. At his death, the Fathers of the Company of Mary numbered 12, the Brothers 6; the Daughters of Wisdom numbered 100 in 26 houses, 19 having already died.



P. René MULOT
Superiore generale dal 1716 al 1749

Nasce a Fontenay-le-Compte nel 1683
Viene ordinato sacerdote nel 1707
Entra nella Compagnia nel 1715
Successore del Montfort dal 1716 a 33 anni
Superiore Generale per 33 anni
Muore nel 1749 a 66 anni ed è sepolto a Questembert


Nasce a Fontenay-le-Compte nel 1683. Ordinato sacerdote nel 1707, conosce il Montfort e nel 1715 diventa suo collaboratore nella predicazione delle missioni. È presente alla morte del Santo, divenendo suo esecutore testamentario e successore, all'età di 33 anni. Nel 1718 riprende con P. Vatel l'attività delle missioni. Acquistato le Chêne-Vert a St. Laurent, comincia a viverci nel 1721. L'anno seguente viene eletto ufficialmente Superiore e i confratelli fanno la professione nelle sue mani. Benché responsabile anche delle Figlie della Sapienza continua l'attività delle missioni. Muore nel 1749 durante una di queste a Questembert per un'infezione di tetano. La sua tomba, posta nel cimitero locale sotto un tasso centenario, è meta di pellegrinaggi. Alla sua morte i Padri sono 12, i Fratelli 6. Le Figlie della Sapienza sono 100 in 26 residenze e 19 già defunte.