T. R. P. Charles-Olivier BESNARD
Significant Persons > Superior Generals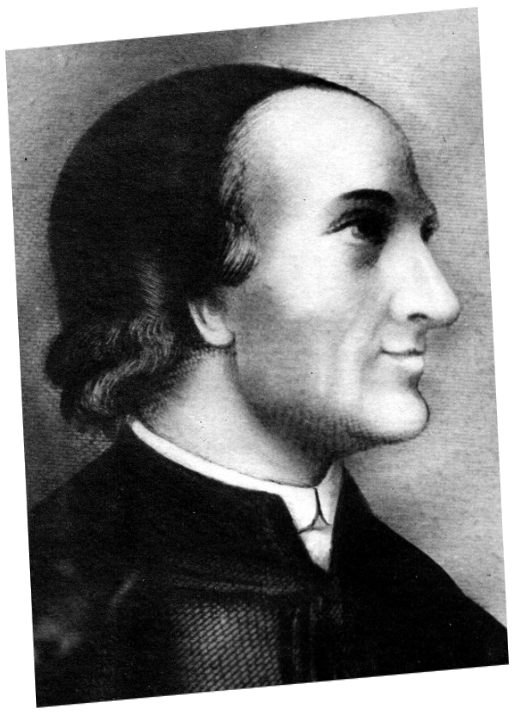 T. R. P. Charles-Olivier BESNARD
Supérieur Général de 1755 à 1788

Naissance à Rennes en 1717
Ordination sacerdotale en 1741
Entrée dans la compagnie de Marie en 1743
Election comme supérieur général en 1755, à 38 ans
Supérieur général pendant 33 ans
Mort en 1788 à 71 ans. Sépulture à Saint Laurent


Il naît à Rennes en 1717. En provenance du séminaire du Saint Esprit à Paris, il se joint aux missionnaires montfortains en 1743. Il a 38 ans lorsque, sur indication du P. Audubon ratifiée par les confrères, il devient supérieur en 1755. Il travaille beaucoup pour obtenir les Lettres Patentes et il les obtient finalement, mais à un prix élevé. En 1759 il voit la mort de Mère Marie Louise et du très fidèle Frère Jean. L'année suivante, c'est le décès du Frère Mathurin. En 1782 a lieu la bénédiction de la chapelle des Sœurs (actuellement la chapelle des Fondateurs). A l'insistance de l'évêque de La Rochelle, les Pères eux aussi acquièrent du terrain pour y construire une maison et une chapelle : ils peuvent ainsi sortir de la Maison Longue. Avant de mourir à Saint Laurent, en 1788, le P. Besnard a pu voir la réalisation de la nouvelle maison. C'est celle que nous voyons encore aujourd'hui : la Maison du Saint Esprit. Malgré le travail immense de prédication de missions et la direction des deux congrégations, le P. Besnard nous a laissé les biographies des deux fondateurs : le contact direct avec les témoins les rendent dignes de foi, respectueuses des faits et honnêtes dans les interprétations.

Fr. Charles-Olivier BESNARD
Superior General (1755 – 1788)

Born in Rennes in 1717
Ordained priest in 1741
Entered the Congregation in 1743
Was elected Superior General in 1755 at the age of 38
Superior General for 33 years
Died in 1788 aged 71 and was buried in Saint-Laurent


He was born in Rennes in 1717. He joined the Missionaries in 1743, coming from the Holy Spirit Seminary in Paris. He was 38 years old when he became Superior, his nomination by Fr. Audubon being ratified by the confreres. This was in 1755. After working on it for a long time, he finally obtained the Letters Patent in 1773, but at a price. In 1759, Mother Marie-Louise and the faithful Brother John both died, and the following year so did Brother Mathurin. In 1782 the chapel of the Sisters was blessed (the present Chapel of the Founders). At the insistence of the Bishop of La Rochelle, the Fathers obtained some land to build a house and a Church, and so be able to leave the Maison Longue. Before his death in Saint-Laurent in 1788, Fr. Besnard was able to see this completed. We can still see it today: the house of the Saint-Esprit. Despite the immense task of giving Missions and the direction of both Congregations, Fr. Besnard left us the biographies of the two founders: direct contact with the eye-witnesses gives them great merit, respectful of the facts and honest in their interpretation.

P. Charles-Olivier BESNARD
Superiore Generale dal 1755 al 1788

Nasce a Rennes nel 1717
Viene ordinato sacerdote 1741
Entra nella Compagnia nel 1743
E' eletto Superiore Generale nel 1755 a 38 anni
Superiore Generale per 33 anni
Muore nel 1788 a 71 anni ed è sepolto a St. Laurent-sur-Sèvre


Nasce a Rennes nel 1717. Viene ordinato sacerdote nel 1741. Si unisce ai Missionari nel 1743, provenendo dal seminario dello Spirito Santo di Parigi. Ha 38 anni quando, ratificata da parte dei confratelli l'indicazione di P. Audubon, diventa Superiore Generale. È l'anno 1755. Lavora a lungo ed ottiene infine nel 1773 le Lettere Patenti, ma a caro prezzo. Nel 1759 muore Madre Maria Luisa e il fedelissimo Fr. Jean. L'anno seguente Fr. Maturino. Nel 1782 viene benedetta la cappella delle Suore (l'attuale Cappella dei Fondatori). Su insistenza del vescovo di La Rochelle anche i Padri acquistano un terreno per costruire una casa e una Chiesa e così uscire dalla Maison Longue. Prima della sua morte a St.-Laurent, nel 1788, ne vede la realizzazione. E' dato anche a noi di contemplarla: è la Casa St. Esprit. Nonostante il lavoro immenso nelle missioni e la responsabilità di direzione delle due Congregazioni, P. Besnard trova il tempo di stendere le biografie dei due Fondatori: il contatto diretto con i testimoni le rendono serie, rispettose dei fatti e oneste nelle interpretazioni. Muore nel 1788 a 71 anni ed è sepolto a St. Laurent-sur-Sèvre.